Stay Running Smooth
The team at Thompson Lexus is here to be your go-to Service Center. No one knows your Lexus better than our team.
Schedule Oil Change
Scroll to Learn More
Technicians at Thompson Lexus Doylestown always recommend consulting your Warranty and Lexus Service Guides, but as a rule of thumb, most Lexus models will need an oil change every 5,000-10,000 miles. The interval may vary depending on your personal driving habits, driving conditions, and the oil you use. Even if you might not be driving a lot, oil can deteriorate over time, so if you're less than the mileage suggestion, have our team check your oil every 6 months or so.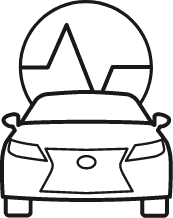 Our team recommends full synthetic oil for your Lexus. Synthetic oil is designed to have a longer lifespan than conventional oil, allowing you to take advantage of a longer interval between oil changes safely. It also withstands temperature extremes better and is more resistant to oxidation and chemical degradation. If you're ever questioning your oil health, or your light comes on, give the service team at Thompson Lexus Doylestown a call.
Our main goal at Thompson Lexus Doylestown is to provide you with everything you need to ensure that you can enjoy every mile throughout your Lexus ownership. In order to accomplish this, it is best to adhere to the recommended maintenance services for your Lexus vehicle, which includes routine oil change services. Need service for your Lexus? Our Lexus factory-trained technicians right here in Doylestown at Thompson Lexus Doylestown can quickly perform this service for you. We're only a short drive from Furlong, Warrington, Lahaska, or Newtown!
Schedule Oil Change